Ventura monitor star Sadie Engelhardt pushes self to new limits
With a few steps, the thumping of the runners trying to keep her glistening gold headband in sight faded away, and Sadie Engelhardt turned the 1,600-meter race at the Arcadia Invitational into nothing more than a workout.
The masses expected this, because most Engelhardt races become dances not with her fellow numbers but with the numbers of history. And as usual, peers and fans prodded the Ventura High sophomore April 7 at Arcadia: What time are you going to run?
It's overwhelming. Heavy is the young head that wears the crown, but the expectations are wholeheartedly realistic. Engelhardt is a precious couple seconds away from Katelyn Tuohy's 4:33 national high school record in the mile. It's been inevitable, she feels, since she planted her flag at the peak of the Southern California girls' track scene with a 4:35 as a freshman in April 2022.
"I get the idea that the most important thing isn't beating everybody in the field every single time, but it's about beating herself: doing better than Sadie has done before," Ventura track coach Kory Anderson said Wednesday. "I think that drives her … I've never, ever seen a freshman or sophomore like that."
Engelhardt has the most fun, she says, when she's at her absolute limit. Legs melted. Vision swimming. Breath a desperate cry.
It's hard to push that hard when her only competition, race in and race out, is herself.
As the gun popped at Arcadia, Engelhardt jumped to an early lead. But measured. By the 800-meter mark, runners nipping at her heels lagged, and Engelhardt applied pressure.
She kicked. The pack fell back.
And Sadie Engelhardt was alone, again.
Engelhardt, Ventura distance coach Tyree Cruz said, loves to hurt. Loves to suffer.
It can be tough to do either when everyone else always falls away after a lap. When Engelhardt's only competition are her thoughts.
"Usually, she's out there," Cruz said, "running by herself."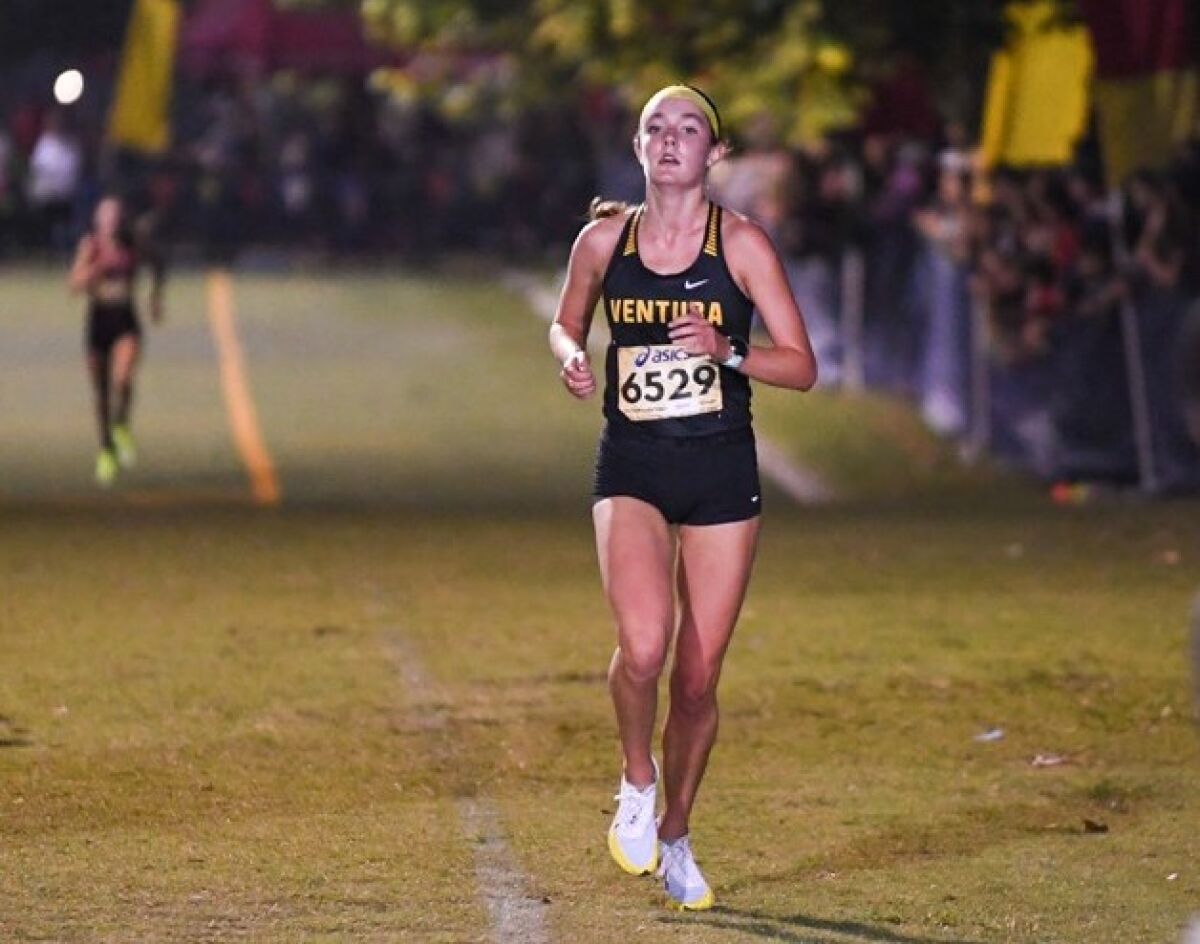 Last summer, Engelhardt came into the Nike Outdoor Nationals at Eugene, Ore., fresh off a dominant cross-country and track season, including the course-record mile time at Arcadia. She was a prodigy in every sense: Before she ever even arrived at Ventura, her dad Max remembered, she broke down in tears after snapping Mary Decker's national record for the mile as a 14-year-old.
"She is a ferocious competitor," Anderson said. "Like, ferocious competitor."
But in Oregon that summer, Engelhardt felt a strange tug of apathy. She burst out to a lead within the first 100 yards, won the race by eight seconds, and wasn't remotely challenged. Yet again. The University of Oregon's Hayward Field was cavernous, not nearly energized enough to drown out the thought she couldn't erase:
Why am I doing this?
"It just seemed like a time trial to me," Engelhardt remembered.
She came in yearning for that 4:33. She ended with a 4:38. Great. But not enough, for her.
Engelhardt built so much hype last year in the running community that freshman teammate Aelo Curtis said she seemed like "a celebrity." Yet her gifts can be a curse.
Just as she's reaching the age where she can legally drive, Engelhardt is already hitting a plateau explored by few.
"It's going to be interesting to see how this all happens for the rest of her high school career," said Matt Hammel, Engelhardt's youth coach who still trains her. "Finding things that keep her really interested is going to be a challenge."
Engelhardt was the Gatorade state girls' cross-country runner of the year in the fall. She set a meet record at the legendary Woodbridge Invitational with a time of 15:42:6.
She also didn't have fun.
The seasons felt like a cycle. In the fall, she got hit by a nasty illness that lingered for nearly two months. She labored to a 10th-place finish at the Champs Sports cross-country nationals, where she was approached and offered words of encouragement by former Oregon track standout Katie Rainsberger, who noticed — as Engelhardt put it — the young runner wasn't "crazy happy."
Three months later, her grandfather, George McDaniel, died in the thick of the track season. Engelhardt raced the next day, trying to honor his memory.
"Not knowing, that's the biggest stress to put on your body ever," she said.
Nothing was quite right. Times lagged a second behind her personal bests. So before Arcadia, Engelhardt messaged Rainsberger, seeking help with motivation.
Newsletter
Get our high school sports newsletter
Prep Rally is devoted to the SoCal high school sports experience, bringing you scores, stories and a behind-the-scenes look at what makes prep sports so popular.
You may occasionally receive promotional content from the Los Angeles Times.
Rainsberger responded with specific advice: Set precise goals throughout a lap. Break it down, accomplish one task, move to the next. Run with purpose.
So Engelhardt set marks for Arcadia. She set splits of 33 and 35 seconds at 200 meters for the first lap, then 34 and 34 seconds for the second lap. Cut down, increasingly, over the next 400, before pushing as hard as she could in the final lap.
As the crowd at Arcadia thundered, Engelhardt's final time the only remaining intrigue in the 1,600, she broke the finish line at 4:36 — just a hair shy of her course-setting mark the year before.
"That was the first race this season … that I felt really good, and I just felt that pep in my step," Engelhardt recalled.
A needed course-correction, because as the months grow warmer, Engelhardt will no longer be running by herself. She'll face tough competition at the state finals in late May, churning against a loaded 800-meter field led by Riverside North senior Mackenzie Browne, who set the Arcadia 800-meter record this spring with a time of 2:03:07. And Engelhardt couldn't be more excited.
Early in her running career, Hammell said, Engelhardt won her first youth meet handily. She came back, the next week, to face the exact same field. The first thing she asked Hammell before her second race, the coach remembered, was, "Is there anyone here who can beat me?"
All these years later, the person with the best chance of beating her remains Sadie Engelhardt.